Yup, it's everybody dreams to go to Spain. My wife and I never ad a honey moon after we get married since we just busy to find new home and we planned to go honey moon. She was already pregnant and having nausea.After having a baby, still no time to go 🙂
Sometime I just sit around and just fantasize my honeymoon in Spain,why Spain?Is it because exceptional architecture,stunning beaches,bull raging, or beautiful scene ?
NOPE, I just want to see Real Madrid playing against Barcelona FC hehe. Of cpurse lah, I want to see the bull fights to Picasso, beaches to tapas bars and hot sexy latino :). I try to search Malaysian Airlines System (MAS) flight ticket to Spain… But there is no direct flight to Spain from Kuala Lumpur. Maybe I have to consult with my company travel agency to ask about ticket, booking spain hotels or travel guide.
So if I can go to Spain, let say next year, which other places that I need to go, other than Barcelona. You don't want to spend the whole week at barcelona hotels right. So let's digg some info from the net.
Other than Barcelona,Alicante is a bluevard and pleasent shopping street and a most well known towns on the Costa Blanca.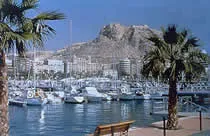 The coast of Alicante and the Costa Blanca owes its name to the beaches stretching for several kilometers and attracts many sun worshippers and pleasure seekers.Alicante hotels such as Melia Hotel Alicante,Mediterranea Plaza,Pension Les Monges and Nh Cristal.
Benidorm is located about 45 km northeast of Alicante, just south of Altea is one main attraction along the Costa Blanca. Despite its skyscraper skyline, it stands for beach and nightlife, Lots of Benidorm nightlife.Othe than that,you can find Peacock island, playa poniente, terra mitica and Aqualandia water park.Benidorm hotels offers a very good price also such as Apartamentos Michel Angelo and Deloix Aqua Center.
So guys, wish me luck. Maybe one day I can fulfill my dreams hehe 🙂